The Iowa Public Health Association (IPHA) has been the voice for public health in Iowa since 1925. We are led by a committed staff and board and powered by more than 400 public health professionals from across the state. In addition to participating in educational opportunities hosted by IPHA and attending our annual conference, members have many opportunities to network, collaborate, and grow as professionals.
Members can directly contribute to IPHA's strategic approach through participating in one of six standing committees or the IPHA Student Forum. Current IPHA members should contact the committee chairperson about getting involved. Students who wish to actively contribute to any of the IPHA standing committees have the opportunity to earn a student-level membership scholarship. Contact our Member Services Associate for more information.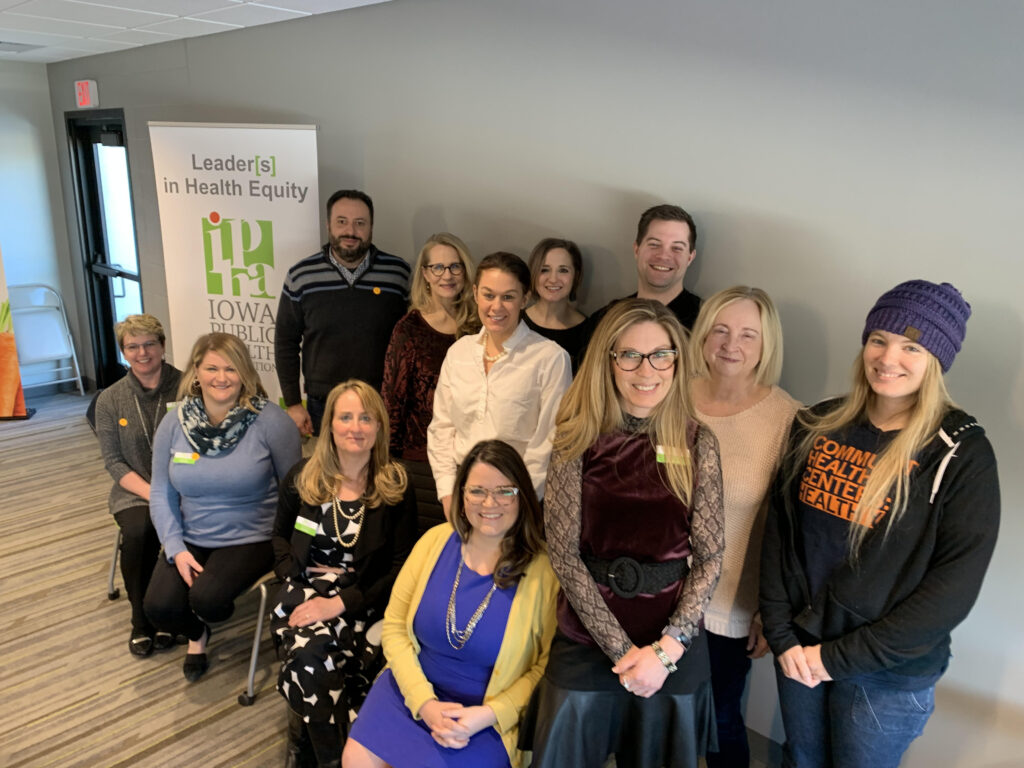 Committees
Advocacy Committee
The Advocacy Committee ensures IPHA members are aware of current policy issues and are equipped with the relevant public health information to share with legislators and public officials. Activities include planning IPHA events like Speak for Health, the IPHA Legislative Forum, Public Health Day on the Hill, and developing action alerts for members.The Committee meets bi-weekly.
2020 Co-Chairs: Deborah Thompson (DHT Consulting) & Hannah Shultz (University of Iowa)
Communication Committee
The Communications Committee assists with the creation and dissemination of messaging that promotes public health in Iowa, as well as IPHA itself. This committee also plays a substantial role in setting the communications strategy for IPHA's many platforms including website and blog, social media, and printed promotional materials. The Committee meets monthly.
2020 Co-Chairs: Anne Abbott (University of Iowa) & Ayla Heder (Primary Health Care, Inc.)
Education & Programming Committee
The Education & Programming Committee plans professional development opportunities for members. Current activities include planning IPHA's 3rd Thursday Lunch & Learn series, the IPHA annual conference pre-conference workshop, and other workshops and trainings as needed. The Committee meets monthly.
2020 Chair: Anjali Desphande (University of Iowa)
Finance Committee
The Finance Committee works with the IPHA Executive Director to set the annual budget, development goals, and conduct an annual audit. This committee is chaired by the sitting Treasurer from the IPHA Board of Directors and is an excellent fit for those who wish to learn more about non-profit operations. The Committee meets monthly.
2020 Chair: Angie Doyle Scar (Iowa Department of Public Health)
Health Equity Committee
The Health Equity Committee assists with focusing IPHA members and resources on the causes and solutions to health equity issues in Iowa. Activities include identifying gaps in Iowa;s health equity/disparity data and services, proposing health equity related policy goals to the Advocacy Committee, and ensuring IPHA events, partnerships, and communications are accessible and welcoming. The committee meets monthly.
Co-Chairs for the Health Equity Committee are TBD.
Membership Committee
The Membership Committee creates and implements a strategy for recruiting and engaging a diverse and robust IPHA membership. Activities include collecting and analyzing membership data, and identifying strategic opportunities to increase the number of IPHA members and benefits available to members. The committee meets quarterly.
2020 Co-Chairs: Kaitlin Emrich (Linn County Public Health) and Audrey Tran Lam (University of Northern Iowa)
IPHA Student Forum
While students can join any of the above standing IPHA committees (and even earn a Membership Scholarship for active participation), the IPHA Student Forum provides a venue for students from across programs and schools to connect about their mutual interest in public health.The Student Forum provides recommendations to other committees on specific student needs and elects a student speaker for the IPHA annual conference. The Student Forum meets monthly.
Undergraduate Co-Chairs: Julia Reichert (University of Iowa) and Mary Jonas (Drake)
Graduate Co-Chairs: TBD
Conference Planning Committee
The IPHA Annual Conference Committee is a special committee that works together to plan and implement all the elements of IPHA's Annual Conference such as securing space and keynote speakers, soliciting presenters and exhibitors, organizing volunteers for the days of the conference and many other activities. The Conference Planning Committee is chaired by a rotating member of the IPHA Board of Directors
Chair: Rachel Schramm (Iowa Cancer Consortium)