The Public Health Conference of Iowa


2023 Public Health Conference of Iowa
Evolving Public Health: Learning Today to Transform Tomorrow
March 28-29, 2023
Scheman Building, Ames
We hope you will join us at Iowa's premiere public and environmental health conference. PHCI 2023 will consist of keynote speakers, presentations and panels from colleagues across the state, poster presentations, wellness breaks, an exhibitor hall, and opportunities to connect with public health friends. View the schedule at a glance here and stay tuned for the full conference schedule to be released soon!
Register before January 16th for Early Bird Pricing:
IPHA Members: $275
IEHA Members: $275
Non-Members: $375
Students: $75
Call for Student Abstracts
The regular session abstract submission window has closed, and students are now invited to submit a student poster abstract for the 2023 Public Health Conference of Iowa. This is a great opportunity to share your work with 500 public health professionals and make connections with educational and vocational entities.
Students are encouraged to submit abstracts focused on current and emerging public health issues. Innovative programs that reach beyond traditional health and environmental circles to collaborate with other disciplines are encouraged. Students are encouraged to submit an abstract to present the results of a health intervention/program, study, or report. 
Presentation descriptions must be 1,500 characters or less, including spaces. Include 2-3 clear and measurable learning objectives. Submissions that do not meet this criteria will not be accepted.
Poster abstracts will be reviewed by members of the conference planning committee and will be accepted based on how well the content meets the needs and interests of the public health community and the clarity of the information presented. 
Poster presentations will be pre-recorded and available during the conference and for several weeks following the conference, via our digital conference platform. Recording should be 5 to 10 minutes in length.
The deadline for submission is Thursday, December 15, 2022 at 11:59 PM. You will be notified of acceptance by January 12, 2023.
The individual that is listed as Speaker 1 in the online submission process will receive all email correspondence regarding selection and pre-conference details. The individual listed as Speaker 1 will serve as the single point of contact.
If you have any questions about the abstract form and process, please contact Stacey Nay, conference coordinator at stacey.nay@assoc-mgmt.com.
Be a Sponsor or Exhibitor
Being a Sponsor or Exhibitor allows you to reach an exceptional public health audience, creating brand visibility, face-to-face interactions, and the opportunity to build important business relationships. 500 public health and environmental health professionals are expected to attend the two-day conference. See the tables below for detailed options and benefits for sponsors and exhibitors (click the table to enlarge the image).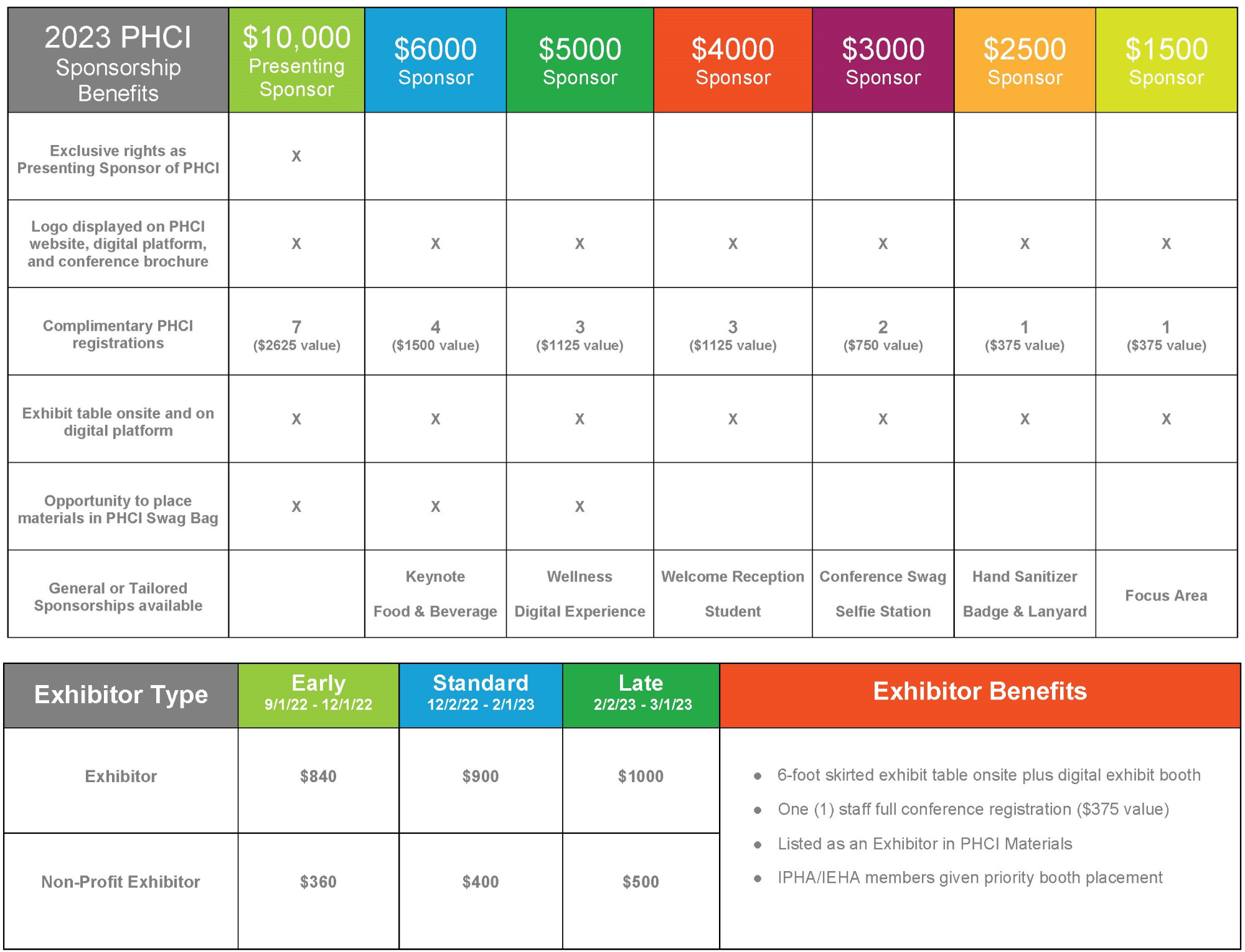 Mid Iowa Health Foundation